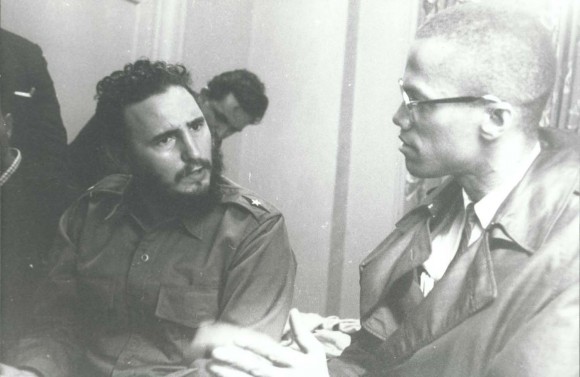 I always remember when I met with Malcolm X at the hotel Teresa, because he was the one who gave us support and made it possible for us to be accommodated there. We had two choices: one was the patio in the United Nations; when I told this to the Secretary General he was horrified at the thought of a delegation camping in tents there; and then we received Malcolm X's offer, he had talked to one of our comrades, and I said: "That is the place, Hotel Teresa." And there we went. – Fidel Castro
Support Harlem World Magazine, the #1 source in the world for all things Harlem.
THE MILITANT, 1995 – In September 19th, 1960 Fidel Castro traveled to the United States to address the United Nations General Assembly. . . Castro did not receive a warm welcome from the U.S. government during his visit to New York City in 1960. The Cuban delegation moved to Harlem after being kicked out of the Shelburne Hotel amid a racist slander campaign in the press that included baseless charges – repeated to this day by the Associated Press – of plucking live chickens at the hotel.
RALPH D. MATTHEWS, NEW YORK CITIZEN-CALL, 1960 – To see Premier Fidel Castro after his arrival at Harlem's Hotel Theresa meant getting past a small army of New York City policemen guarding the building, past security officers, U.S. and Cuban. But one hour after the Cuban leader's arrival, Jimmy Booker of the Amsterdam News, photographer Carl Nesfield, and myself were huddled in the stormy petrel of the Caribbean's room listening to him trade ideas with Muslim leader Malcolm X.
Dr. Castro did not want to be bothered with reporters from the daily newspapers, but he did consent to see two representatives from the Negro press. . .
We followed Malcolm and his aides, Joseph and John X, down the ninth-floor corridor. It was lined with photographers disgruntled because they had no glimpse of the bearded Castro, with writers vexed because security men kept pushing them back.
We brushed by them and, one by one, were admitted to Dr. Castro's suite. He rose and shook hands with each one of us in turn. He seemed in a fine mood. The rousing Harlem welcome still seemed to ring in his ears. . .
After introductions, he sat on the edge of the bed, bade Malcolm X sit beside him, and spoke in his curious brand of broken English. His first words were lost to us assembled around him. But Malcolm heard him and answered: "Downtown for you it was ice. Uptown it is warm." The premier smiled appreciatively. "Aahh yes. We feel here very warm."
Then the Muslim leader, ever a militant, said, "I think you will find the people in Harlem are not so addicted to the propaganda they put out downtown."
In halting English, Dr. Castro said, "I admire this. I have seen how it is possible for propaganda to make changes in people. Your people live here and they are faced with this propaganda all the time and yet they understand. This is very interesting."
"There are twenty million of us," said Malcolm X, "and we always understand." . . .
On his troubles with the Hotel Shelburne, Dr. Castro said: "They have our money. Fourteen thousand dollars. They didn't want us to come here. When they knew we were coming here, they wanted to come along." (He did not clarify who "they" was in this instance.) . . .
On U.S.-Cuban relations: In answer to Malcolm's statement that "As long as Uncle Sam is against you, you know you're a good man," Dr. Castro replied, "Not Uncle Sam, but those here who control magazines, newspapers…"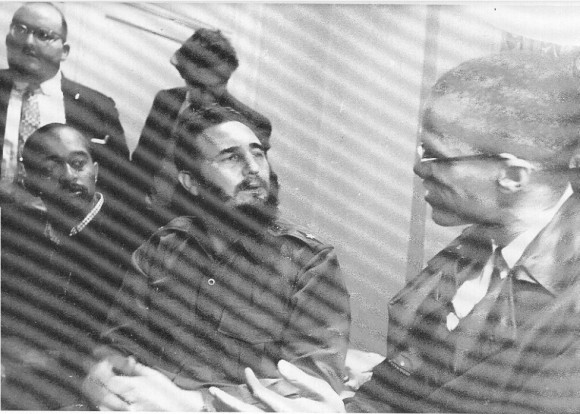 Dr. Castro tapered the conversation off with an attempted quote of Lincoln. "You can fool some of the people some of the time,…" but his English faltered and he threw up his hands as if to say, "You know what I mean."
The Harlem Love connection: