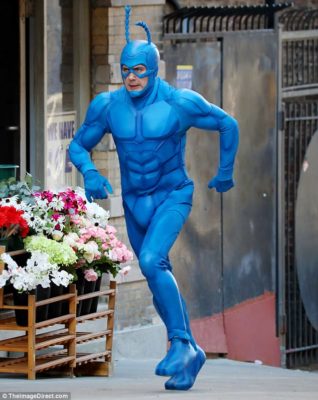 Peter Serafinowicz suited up to film scenes from the upcoming The Tick series on Friday in Harlem, New York.
The 44-year-old actor, who stars as the titular Tick in the Amazon Prime show, shot a sequence in which the wacky blue superhero chases co-star Griffin Newman from a flower shop.
The Tick also co-stars Valorie Curry and Jackie Earle Haley.
Getting the foot-chase down took up a better part of the morning's work.
In take after take, Peter's Tick ran a mean blue streak up Harlem's streets.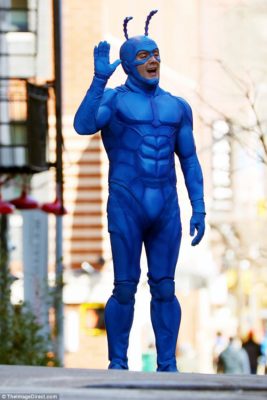 However, Peter's character is no 'Flash' in the pan: this big bug has been around since 1986.
The Tick is based on cartoonist Ben Edlund's absurd comic book series and a popular animated cartoon series, which ran for three seasons in the mid-1990s.
In 2001, Fox aired the original live-action TV version, which starred Patrick Warburton. While the show only lasted nine episodes, it quickly developed a loyal cult following.
The first full season of Amazon's reboot, which debuted as a pilot last August, is set to air later this year.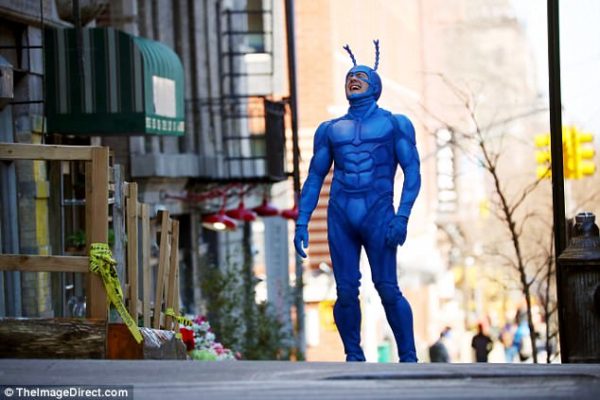 The Tick isn't the first time Peter has played in a live-action version of a comic book series. The actor also had roles in the 2012 Fox TV series Axe Cop and the 2014 Marvel feature film blockbuster Guardians Of The Galaxy.
Peter has been a busy man of late. The Shaun Of The Dead star recently played in the hit hitman sequel John Wick 2, opposite star Keanu Reeves.
The Spy actor will next appear in the remake of the George Burns comedy Going in Style, out April 7, 2017.